Teens! Kids!
Help design next year's T-shirts or a Crop poster. Bring your design with you to the CROP Walk or create a design in the ART CONTEST area when you finish walking.
If your design is chosen, you'll get a free T-shirt.
Many youths have taken part over the years in the Art Contest in the parish hall, with the winning design appearing on next year's new T-shirt.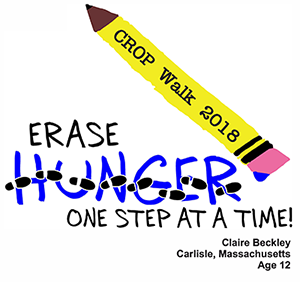 2018's winner is Claire Beckley, age 12,
from Carlisle
The past winners are:
2017 Sydney Haddad, 12, Concord
2016 Olivia Glover, 12, Concord
2015 Hannah Gonyea, 14, Maynard
2014 Caitlin Terpstra, 13, Concord
2013 Henry Johnstone, 11, Concord
2012 Natalie Good, age 12, Andover
2011 Lydia Sancetta, age 13, and Hazel Edwards, 14, Acton
2010 Suzanne Wang and Vanessa Lee, both 15, Acton
2009 Yifan Zhang and Alyssa MacNeill, both age 17, Acton
2008 Emma Eliason, age 12, Acton
2007 Bryan LeBlanc, age 14, Bedford
2006 Nathan LeBlanc, age 12, Bedford
2005 Georgia Guttadauro, age 12, Carlisle
2004 Whitney Sharp, age 17, Concord
2003 Annie Peterson, Concord
2002 Nicholas Cunkelman, age 12, Acton
2001 Courtney Callahan, age 13, Acton
2000 Bonnie Petersen, age 10, Concord
1998 Chris Plating, age 13, Greer, S.C.
1997 David Ballard, age 11, Concord
1996 Hawley Tremblay, age 9, Concord
1994 Ben and Becky DeMott, ages 12 and 5, Maynard
1991 Mary Alice Barron, age 11, Concord
1990 Anne-Marie Wulfsberg, age 13, Concord
1989 Susie Corke, age 14, Concord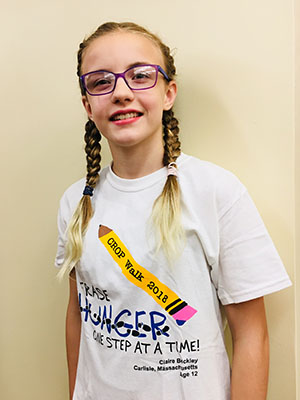 This year's Art Contest winner is 13-year-old Claire Beckley of Carlisle, MA. Claire walked last year with her church youth group from the First Religious Society of Carlisle. She attends the Carlisle School, where she runs four afternoons a week with the cross country team. In the summer Claire's family often goes to Iowa and Nebraska for family reunions. They also go camping in Maine. At home, Claire has a younger sister and an assortment of pets --- cats, turkeys, guinea fowls and chickens. She also reads a lot and is currently reading A Mango-Shaped Face by Wendy Moss.
Claire's bold T-shirt design shows a big yellow pencil with a trail of footprints below it. Asked the purpose of the design, Claire said that it was meant to show that many steps are needed to eliminate hunger, and the big eraser on her pencil represented the efforts of many people who participate in activities such as the CROP Walk to "erase" hunger.
Claire and her parents and little sister will be at the walk again this year. You can meet this talented young artist at the T-shirt table before the walk.