Teens! Kids!
Help design next year's T-shirts or a Crop poster. Bring your design with you to the CROP Walk or create a design in the ART CONTEST area when you finish walking.
If your design is chosen, you'll get a free T-shirt.
Many youths have taken part over the years in the Art Contest in the parish hall, with the winning design appearing on next year's new T-shirt.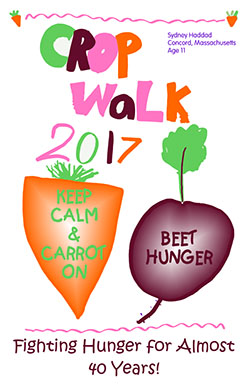 2017's winner is Sydney Haddad, age 12,
from Concord
The past winners are:
2016 Olivia Glover, 12, Concord
2015 Hannah Gonyea, 14, Maynard
2014 Caitlin Terpstra, 13, Concord
2013 Henry Johnstone, 11, Concord
2012 Natalie Good, age 12, Andover
2011 Lydia Sancetta, age 13, and Hazel Edwards, 14, Acton
2010 Suzanne Wang and Vanessa Lee, both 15, Acton
2009 Yifan Zhang and Alyssa MacNeill, both age 17, Acton
2008 Emma Eliason, age 12, Acton
2007 Bryan LeBlanc, age 14, Bedford
2006 Nathan LeBlanc, age 12, Bedford
2005 Georgia Guttadauro, age 12, Carlisle
2004 Whitney Sharp, age 17, Concord
2003 Annie Peterson, Concord
2002 Nicholas Cunkelman, age 12, Acton
2001 Courtney Callahan, age 13, Acton
2000 Bonnie Petersen, age 10, Concord
1998 Chris Plating, age 13, Greer, S.C.
1997 David Ballard, age 11, Concord
1996 Hawley Tremblay, age 9, Concord
1994 Ben and Becky DeMott, ages 12 and 5, Maynard
1991 Mary Alice Barron, age 11, Concord
1990 Anne-Marie Wulfsberg, age 13, Concord
1989 Susie Corke, age 14, Concord
This year's Art Contest winner is 12-year-old Sydney Haddad of Concord, MA. Sydney came to the walk for the first time last year with the youth group from First Parish Church in Concord, where she also sings in her church's Gospel choir and participates in a mother-daughter book group. In her after-school hours, Sydney loves to play the guitar and run for Sanborn School's cross-country team. This past summer Sydney went to Nashoba Day Camp and learned a lot about boating and sailing, which she loves now. She also went with her parents and younger brother to NYC where they saw "Hamilton."
Sydney's winning design for the 2017 CROP Walk T-shirt features two colorful images. One shows a big orange carrot and the words "Keep calm and carrot on." The other is a drawing of a big red beet with the words "Beet hunger" below. Sydney says she was carrying a sign to the walk that said "Keep calm and carrot on", and she thought it would make a good design for the T-shirt. And indeed it did!
Sydney and her parents and little brother will be at the walk this year. You can meet this talented young artist at the T-shirt table before the walk.