25% of the money raised by the Concord CROP Walk for the Hungry is used locally to support these groups: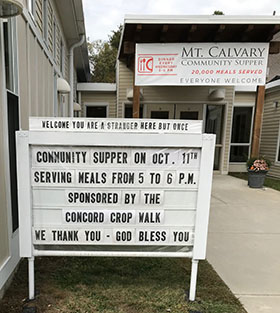 The Acton Community Supper and Food Pantry offers the opportunity to shop for groceries from their shelves and to choose items from their Clothes Closet to all those in need from Acton and its surrounding towns each Wednesday 10 AM-7 PM and Thursday 9:30-11:30 AM. The Pantry is closed the week of the 4th Wednesday of the month. Visit www.actoncommunitysupper.org
Mt. Calvary Community Supper serves a free weekly meal in a friendly and welcoming environment to alleviate hunger and social isolation. Meals are served every Wednesday from 5-6 PM at 472 Mass Ave in Acton. All are welcome. Visit www.mtcalvaryacton.org. Call 978-263-5156 for information.
The Bedford Community Table/Pantry, a non-profit, all-volunteer organization, serves a free community dinner to 70-85 people from 5-6 PM each Thursday, September though May. They also offer a food pantry every Thursday for individuals or families in need, serving 25-40 families per week. Visit www.bedfordfoodpantry.org
The Open Table provides a hot nutritious supper to over 100 individuals and groceries to families totaling 300 people, serving all who come. The pantry is located in their new home at 33 Main St., Maynard, and is open by appointment Mondays and Thursdays from 3-7 PM, and Tuesdays 1-3 PM for seniors only (60+). Dinners are served in Maynard on Tuesdays 6-7 PM, and in Concord on Thursdays 5:30-6:30 PM. Visit www.opentable.org for more information.
The Maynard Food Pantry provides free groceries to 40-45 families each Monday from 10 AM–12 PM. Maynard residents shop twice per month and residents from surrounding towns may shop once per month.
The Sudbury Community Food Pantry provides 60-70 families per week from 65 surrounding towns with free groceries Tuesdays & Thursdays 12-2:30 PM. The Food Pantry is open to all in need, without a needs test. Visit www.sudburyfoodpantry.org for more information.
Loaves & Fishes Food Pantry, Inc. services the communities of Ayer, Devens, Groton, Harvard, Littleton, and Shirley. Families may receive free groceries twice per month. Visit their website at www.loavesfishespantry.org for more information.
Gaining Ground is a Concord farm that grows and distributes over 80,000 pounds of organic produce each year to more than a dozen hunger relief programs, with the help of 2500 community volunteers. Visit www.gainingground.org for more information.
The Westminster Community Food Pantry provides free groceries weekly to 15 families in need from Westminster. It is open Wednesdays from noon to 1 PM for senior citizens and Thursdays from 6:30-7:30 PM for the public.