25% of the money raised by the Concord CROP Walk for the Hungry is used locally to support these groups: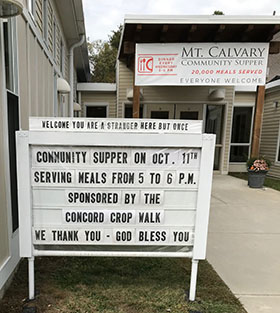 The Acton Community Supper and Food Pantry offers the opportunity to drive through for groceries to all those in need from Acton and its surrounding towns each Wednesday 10 AM-7 PM and Thursday 9:30-11:30 AM. The Pantry is closed the week of the 4th Wednesday of the month. Visit www.actonfoodpantry.org
Mt. Calvary Community Supper serves a free weekly meal in a friendly and welcoming environment to alleviate hunger and social isolation. Meals are served every Wednesday from 4:45-5:45 PM at 472 Mass Ave in Acton. All are welcome. Visit http://www.mtcalvaryacton.org or call 978-263-5156 for information.
The Bedford Community Table/Pantry, a non-profit, all volunteer organization, supports the Bedford Food Bank. The Food Bank currently serves about 100 households each week, providing nutritious food and household supplies at no cost to any Bedford household facing food insecurity. It is open for drive-thru pickup Thursdays from 4:00 to 5:30 in front of the Town Center. For more information about offerings, visit www.bedfordfoodpantry.org
The Maynard Food Pantry provides free groceries to 40-45 families each Monday from 10 AM – 12 PM. Maynard residents shop twice per month and residents from surrounding towns may shop once per month. See www.maynardfoodpantry.com for more information.
The Sudbury Community Food Pantry provides 60-80 families per week from 76 surrounding towns with free groceries Wednesdays & Friday 12-2:15 PM. The Food Pantry is open to all in need, without a needs test. Visit www.sudburyfoodpantry.org for more information.
Open Table's weekly fresh market pantry provides groceries, including seasonal produce, meat & dairy, to over 400 families from 21 towns in the central Middlesex County area. The Open Table pantry is located at 33 Main St, Maynard, and is open Tuesdays 3-6:30 PM, Thursdays 1-4:30 PM, and for seniors 65+, Tuesdays 1-3 PM. To protect our shoppers and volunteers during the current pandemic, Open Table is providing pre-packed grocery bags and prepared meals and distributing them through a drive-through system in the Maynard municipal parking lot behind the facility.. Visit www.opentable.org for the most up-to-date information.
Loaves & Fishes Food Pantry, Inc. provides nutritious food, in an atmosphere of kindness and respect, to individuals in need who reside in Ayer, Devens, Dunstable, Groton, Harvard, Littleton, and Shirley. Families may visit our drive-through and receive free groceries twice per month. Visit their website at www.loavesfishespantry.org for more information.
Gaining Ground is a nonprofit Concord farm that grows and distributes organic produce for hunger relief. In 2020, over 127,000 pounds were donated to more than a dozen food pantries and meal programs in metro Boston. In a typical year more than 2,500 volunteers work with Gaining Ground's farmers to grow and harvest produce. This year, with food insecurity still running high because of COVID-19, we have been grateful to welcome volunteers back to the farm. For additional information or to volunteer, visit www.gainingground.org.
The Westminster Community Food Pantry provides free groceries weekly to Westminster residents in need. It is open every Thursday evening from 6:30-7:30 in the First Congregational Church, 138 Main St. Westminster.